Just after the world came together for the landmark Paris Agreement on climate change, the Bank Group unveiled an ambitious Climate Change Action Plan to ramp up financial and technical support to developing countries to step up climate action.
The World Bank Group committed to increasing climate finance from 20% of lending in 2016 to 28% by 2020. This target was exceeded each year for the last three consecutive years. In total, over the duration of the Action Plan, the Bank Group has delivered over $83 billion in climate finance.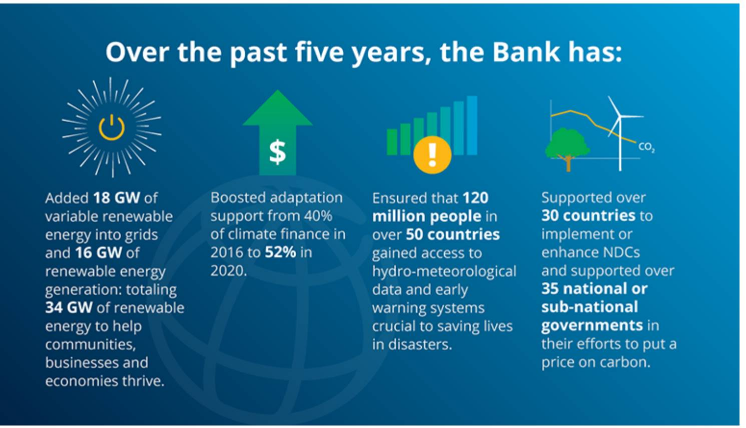 Here are five early takeaways – lessons learned from the Action Plan – that are fundamental to our efforts to help clients address climate change while also helping countries recover sustainably from the pandemic:
1. Integrating climate change in projects and strategies
As a result of the Action Plan, all new Bank projects are screened for climate risk. Climate change considerations are taken into account at every stage of project design and have been integrated into 100% of the Bank's multi-year development strategies with developing country partners.
"This mainstreaming of climate into everything we do is what really changes everything," says Stephane Hallegatte, Lead Economist for the World Bank's Climate Change Group. "It puts climate-informed development on the table in a systematic manner and helps our clients unlock the opportunities of low-carbon, resilient development."
Critically, the Bank's support has branched out beyond sectors traditionally identified with climate action, such as energy, agriculture and environment, expanding the range of climate-smart development to projects that include enhancing digital development and climate resilience together in Bangladesh, integrating climate into macro fiscal budgeting and planning in the Philippines and improving energy and water efficiency into Egypt's healthcare system.
2) Restoring landscapes and improving land use practices
With 4 billion people living in frequently water-stressed regions, the Bank Group made climate-smart land use a priority to boost food security and protect natural resources.
"We can see clearly that food systems in Africa in general are in jeopardy," says Simeon Ehui, World Bank Sustainable Development Director for West and Central Africa. "We are talking about 277 million people suffering from undernourishment in Africa. And a key driver of that is climate change. We have to be able to do something about it."
An increasing share of agriculture projects are "climate-smart": increasing productivity and resilience while reducing greenhouse gas emissions. And solutions have been deployed at a large scale, bringing benefits to millions: in Maharashtra, India, 7 million farmers are being trained in soil fertility and water resources management; varietal crop selection and seed quality; and low-cost organic practices.
"There is no option but to take climate into account in terms of a recovery from COVID," says Ayat Soliman, World Bank Director of Sustainable Development for the Middle East and North Africa, where projects are reviving oases and livelihoods and building resilience to droughts and floods.".
"The recovery pattern is extremely important so that you do not have further exclusion or exacerbation of risk for certain groups that are already hard hit."
. Protecting the vulnerable from climate shocks
"There is no doubt that the disruption caused by COVID-19 reinforces the importance of guarding against the environmental risks that have severe and systematic impacts across the economy, and that it provides an opportunity to reconsider what's most important for the quality of life," says Benoit Bosquet, World Bank Director for Sustainable Development in East Asia and Pacific.
Through the Action Plan, the Bank Group has helped countries reduce disaster risk through a combination of measures to build resilience in people, infrastructure, and economies – these are vital as climate impacts mount and can significantly reduce the number of deaths that occur. Preparedness in India and Bangladesh, for instance, ensured that millions were moved to safety before Super Cyclone Amphan arrived on their coasts in May.
During the pandemic, countries with strong social protection systems have been able to ramp up support to their impacted populations faster and more effectively.
4. Encouraging the shift to low-carbon energy while expanding access
The Group prioritized investments in renewable energy and energy efficiency as key to helping clients reduce emissions. It backed some of the world's biggest solar projects, joining the Climate Investment Funds to support the Noor concentrated solar plant in Morocco, one of the few in the world to use this pioneering technology to store solar energy. The Group also supported the BenBan solar park in Egypt, and the Ultra Mega Solar Park in India, which helps power the Delhi Metro roughly 800 km away.
5. Shifting to lower-carbon transportation
With transport responsible for a quarter of energy-related greenhouse gas emissions globally, the Bank is supporting clients invest in public transit systems, shifting freight from roads to railways and, where possible, to waterways, which have the lowest emissions per ton kilometer of transport.
The Bank is backing a rail corridor dedicated to moving freight between the Indian megacities of Delhi and Kolkata and is looking to support inland waterways for moving freight and people across Bangladesh, India and Nepal, according toGuangzhe Chen, the World Bank's South Asia Infrastructure Director.
Climate Change Action Plan 2.0
Results from the recently concluded Plan make clear the Group's leadership on climate action. Looking ahead, our next Climate Change Action Plan (2020-2025), already underway, aims to boost support for countries to take ambitious climate action by increasing financing for adaptation and supporting increased systemic climate action at the country level.
Implementing this as countries also grapple with the economic consequences of COVID-19 means looking at interventions that can deliver short term objectives – such as jobs and economic growth – as well as longer terms ones like decarbonization and boosting adaptation and resilience, helping our clients shape a sustainable recovery.
Источник: www.worldbank.org